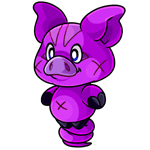 This skeleton Zoink lives alone in Undying Woods. It's really difficult for him to meet any new people and make new friends, because most pets in Undying Woods are dead. So he spends his life in front of his LCD tv, watching DVDs.
Trotter has 30 different missions for you to complete. He will select one of the many dvds in Marada that he has watched before and you will need to show him that you have watched it with one of your pets... that way you will have something in common with Trotter and he can feel less lonely for once in his life! If you do, you will move on to the next level. If not, you will fail and will have to start again.
Ad blocker interference detected!
Wikia is a free-to-use site that makes money from advertising. We have a modified experience for viewers using ad blockers

Wikia is not accessible if you've made further modifications. Remove the custom ad blocker rule(s) and the page will load as expected.