The Troll has lived quietly under the bridge in Baspinar's Castle for centuries. He usually doesn't like to be disturbed, but recently pets that have learnt to play musical instruments have played music to him and he has really enjoyed it. Since then, the given each visitor the chance to complete his missions to learn musical instruments and play music for him. The Troll has 30 different missions for you to complete. He will select one of the many musical instruments in Marada and you will need to return to him with the pet that can play it. If you do, you will move on to the next level. If not, you will fail and will have to start again. Each time you have completed the missions, the level you need to be at playing the instrument will increase, until you have completed it 10 times. So if you have completed the missions for the third time, the next time you start you will need to be level 4 at the instrument he is asking for!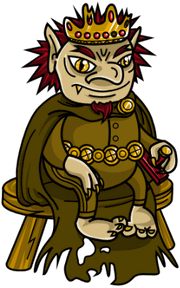 If your pet has already learned the instrument you can complete the mission right away. If not, you must buy the instrument and teach it to your pet before you can complete it.
The Troll is only available during the night at Baspinar's Castle. Remember to check the time on the site before you start the mission! Every hour, the map changes. At even hours (02,04,etc) it is night time and at odd hours (03,05,etc) it is day time. During the night the inside of the Castle will be closed, the bridge will be up and you will be able to visit the Troll that lives under the bridge. During the day, the Troll will be unavailable and the inside of the Castle will be open.
No.
Prize
No.
Prize
No.
Prize
No.
Prize
1

Rotten Potato

2

100mp

3

Troll t-Shirt

4

250mp

5

Rotten
Shield

6

500mp

7

600mp

8

Rotten
Book

9

750mp

10

850mp

11

1000mp

12

Rotting

13

1100MP

14

1200mp

15

1300mp

16

1500mp

17

Rotten
Stamp

18

2500mp

19

5000mp

20

10000mp

21

Troll
Plushie

22

25000mp

23

30000mp

24

Rotten
Sword

25

40000mp

26

50000mp

27
28

75000mp

29
30

Oglue Potion & 500,000MP
| | |
| --- | --- |
| | Rotten avatar gained from completing Mission 27. |
| | Troll avatar gained from completing Mission 30. |