The fates are three evil Maradan goddesses who control the fate of every mortal and immortal marapet, from their birth to their death. These three goddesses, Clotho, Lachesis and Atropos control the destiny of your pets, and all of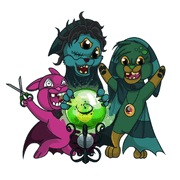 the other pets in
Marada
.
The fates are willing to put you to the test, by giving you an evil mission for either Cooking Ingredients, Voodoo Dolls or Poison items. They have 30 different missions for you, each harder than the last. You will need to find items and bring them back to them. If you fail to bring any of them, you will have to start again and they will also punish you and your pets!
costume: Voodoo
reward at level 30: Yuni Potion and 750,000 mps
Ad blocker interference detected!
Wikia is a free-to-use site that makes money from advertising. We have a modified experience for viewers using ad blockers

Wikia is not accessible if you've made further modifications. Remove the custom ad blocker rule(s) and the page will load as expected.