Talon was once the beloved pet of the
Sultan
of Kamilah, who kept his magical feathers to himself. As Talon grew older, his powers made him stronger. He escaped from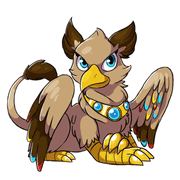 the palace and now lives alone in the desert, fighting for his survival. Talon is a Default Battle Opponent in the Battle Arena. Everyone can battle him without a
Trading Card
. He starts with 1HP and his HP increases 4 times slower than a normal opponent.
Are you brave enough to fight him in the Battle Arena? If you are, accept his quest here and make your way to the arena for a fight! If you win, he will reward you with MP. If you are really lucky, you will pick up any of his magical Feathers that fall to the ground after he is defeated. Each feather has the power to heal your pet or randomly change its colour.
Ad blocker interference detected!
Wikia is a free-to-use site that makes money from advertising. We have a modified experience for viewers using ad blockers

Wikia is not accessible if you've made further modifications. Remove the custom ad blocker rule(s) and the page will load as expected.