Welcome to the opulent palace of the Sultan. The Sultan is the rich and power leader of the
Kamilah Desert
. While the 2012
Battle for Marada
war ended with the defeat of
King Baspinar
, his leadership is there for the taking.
Queen Eleka
believes that she would automatically gain power, but she lost a lot of her fighters, money and support fighting the war.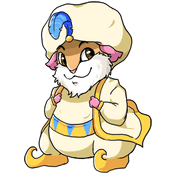 The Sultan wants to buy his way into power and needs your help! He needs you to spread the word and promote him as the new leader. Everytime that you visit the profile of a player currently online you will be given the option to send them your support for the Sultan. If they accept, you will both receive a prize from him! At the end of the event, the top 200 players who have gained him the most supporters will also receive a Sultan Trading Card and 500,000MP!
The winners of the Sultan of Kamilah Desert have been announced on June 19th 2012. The top 200 players who have gained him the most supporters have received a Sultan Trading Card and 500,000MP! If you were a winner, you would have received an alert and your prizes. They have also randomly sent either a Jinn minipet or a Jinn YoYo item to a random number of players who took part in the event!
Sultan Loyalty System
Edit
Welcome to the opulent palace of the
Sultan
. The Sultan is the rich and power leader of the
Kamilah Desert
. While the King rewards your loyalty based on how long you have been playing
Marapets
for and Queen Eleka counts the number of unique days you have visited Marapets, the Sultan rewards you for everyday that you have paid your Taxes.
As the self declared ruler of Marada, the Sultan needs taxes to be paid by all players. Taxes start at 10MP and increase by 10MP each day that you pay them. You can only pay taxes once per day and the Sultan will reward you for the number of days that you pay tax.
Sultan Loyalty Prizes
Tax Days
Prize
2 days
250MP
5 days
Sand Bucket Set
7 days
500MP
14 days
Doon
21 days
750MP
30 days
Sandy Gumball
45 days
1,000MP
60 days
Marapets Staff Photo
90 days
2,000MP
120 days
Pyramid Cupcake
150 days
5,000MP
180 days
Fiestan
210 days
10,000MP
240 days
Desert Potato Chips
270 days
20,000MP
300 days
Sultan Scimitar
330 days
30,000MP
1 years
Desert Balloon
390 days
50,000MP
420 days
Genie Lamp Toy
450 days
75,000MP
480 days
Sultan Hourglass
510 days
100,000MP
540 days
Desert Melodies
570 days
150,000MP
600 days
Magic Carpet
630 days
200,000MP
660 days
Sultan Perfume
690 days
250,000MP
2 years
Pyramid Candle
750 days
325,000MP
780 days
One Thousand and Two Nights
810 days
400,000MP
840 days
Sultan Beard Candy Floss
870 days
500,000MP
900 days
Sultan Doll
930 days
750,000MP
960 days
Palace Stamp
990 days
1,000,000MP
1,020 days
Sultan Glowing Egg
1,050 days
1,500,000MP
3 years
Sultan Video Game
1,110 days
1,750,000MP
1,140 days
Sultan Photo
1,170 days
2,000,000MP
1,200 days
Sultan Sugar Cube
1,230 days
2,500,000MP
1,260 days
Fake Desert Costume
1,290 days
3,000,000MP