Sugar Stack is a game found in Candyland.
You can play Sugar Stack once every 30 minutes for 1,000MP. Place a new sugar cube to the top of the stack and try to take a sugar cube from the stack below. If you knock over the pile, the game will be over and the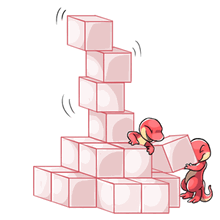 player who added a sugar cube before you will win the Jackpot. If you manage to take a sugar cube from stack, you may be able to keep the gourmet Sugar Cube. You may also win a random bonus prize or a stat for one of your pets.
Ad blocker interference detected!
Wikia is a free-to-use site that makes money from advertising. We have a modified experience for viewers using ad blockers

Wikia is not accessible if you've made further modifications. Remove the custom ad blocker rule(s) and the page will load as expected.