Slime Boy is very shy. He was bullied through school and doesn't fit into most of Marada. He hides in the City Sewers, scared to go above ground. Even here he stands out! He rewards pets that are not shy. The higher your pet's Charisma is, the greater he will reward them.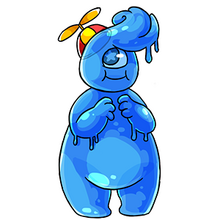 NOTE - you are rewarded only once per pet. Trading for a pet with high Charisma stats list will NOT give you the prizes if they have already been rewarded.
Prizes
Charisma
Prize
5
Slime Balloon
10
2,500MP
15
Slime Slingshot
20
5,000MP
25
Sour Gummy Slugs
30
7,500MP
40
Gooey Groove
50
10,000MP
60
Slime Dog
70
15,000MP
80
Slime Boy Booster
90
20,000MP
100
1001 Slime Recipes
125
25,000MP
150
Slime Boy Doll
175
30,000MP
200
Slime Boy Pearl
225
35,000MP
250
Slime Ghost
275
40,000MP
300
Propellor Hat Stamp
325
45,000MP
350
Slime Boy Glowing Egg
375
50,000MP
400
Slime Boy Trading Card
425
60,000MP
Ad blocker interference detected!
Wikia is a free-to-use site that makes money from advertising. We have a modified experience for viewers using ad blockers

Wikia is not accessible if you've made further modifications. Remove the custom ad blocker rule(s) and the page will load as expected.