This ancient Slate Pyramid has 50 levels inside. While inside the pyramid, your pet will see ancient symbols on the walls or floor which will help him safely proceed to the next level. But you will need Simerian Slates to help translate.
At each level of the Pyramid, you will get a prize. It can be either items, currency, pet stats or
Account Upgrade Credit
. There is no time limit for completing the Pyramid, but you can only complete one level every 8 hours. If you manage to reach level 50, you will be able to ch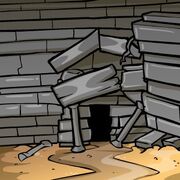 ange your pet into a restricted pet
Echlin
!
Ad blocker interference detected!
Wikia is a free-to-use site that makes money from advertising. We have a modified experience for viewers using ad blockers

Wikia is not accessible if you've made further modifications. Remove the custom ad blocker rule(s) and the page will load as expected.