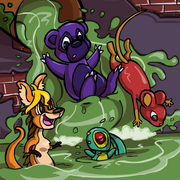 Strange things are found in the
City Sewers
. The City of Marada health authorities has made it illegal for pets to ride down the
Sewer Pipes
and swim in the
sewage
. They believe its unhealthy, dangerous and sometimes deadly. However, if you complete the
Sewer Pipes Treasure Map
you can find a secret way into the Sewer Pipes, where one of your pets can ride through the pipes once every 6 hours, earning either Gym Stats, Elite Gym Stats or MP.

Buy a Sewer Pipes Giftbox from the Giftbox Shop and you can use Sewer Pipes twice as often for life!
The Sewer Pipes Treasure Map was introduced in the Hero/Villain Account Upgrades of November 2009. You can obtain it from the May 2018 Bug Account Upgrade.