-
Main Quest
Edit
SANTA CLAWS




Marapets Description: Every Maradan knows that Santa Claws lives at Biala Mountain. Ever since he fired his elves for stealing, he needs help getting Christmas gifts ready in time for Christmas. Accept a quest from Santa and you will need to collect a plushie or toy for him within the time limit. If you manage to complete his quest he will greatly reward you with MP.

Additional Comments: Supposedly, this Santa needs Toys to give away on Christmas season. You may get a Santa Claws Trading Card and 50,000 marapoints if you are extremely lucky! To see a list of all Trading Cards follow this link.

Average Reward: 3,000 MP

Link: http://www.marapets.com/santa.php
Santa Claws' New Year's Raffle
Edit
SANTA CLAWS' NEW YEAR'S RAFFLE




10th December 2013

Edit

Marapets Description: NEW EVENT

With Christmas only two weeks away, Santa Claws has stopped his normal Quests. Instead of rewarding you MP for completing his quest, he will instead give you one entry to his New Years Raffle. The more quests you complete, the more entries you will have. He will be giving out hundreds of prizes in January and include a total of 50 Panda Costumes, £250 Account Upgrade Credits, 50,000,000MP and other bonus prizes!


28th December 2013
Edit
ENTER!




Marapets Description: The limited edition Christmas Account Upgrades will retire January 15th. Have you entered the Santa Claws New Year Raffle? You have until January 1st to enter!


17th January 2014
Edit
CONCLUSION




Marapets Description: The winners of the Santa Claws New Years Raffle have been announced! Congratulations!! For those who have won Account Upgrade Credit, the limited edition Christmas items and Frostfire Account Upgrades will now RETIRE January 31st!


26th January 2016
Edit
CONCLUSION
Marapets Description: The Santa Claws 2016 New Years Raffle winners have been announced.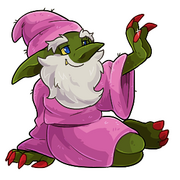 If you are a winner, you will have an alert and the prizes already awarded. There were 100 winners of 1,000,000MP, 3 winners of £25 Account Upgrades Credit, 10 winners of £10 Account Upgrades Credit and 25 winners of £5 Account Upgrades Credit. There was also 2 prizes of each of these retired costumes : Advent, Angel, Blitzen, Christmas, Christmas Tree, Elf, Gingerbread, Ice, Polar, Seasonal, Snow, Tundra and Winter. These new bonus prizes have also been won.
Trading Card
Edit
| | | |
| --- | --- | --- |
| | | Santa Claws is also a Battle Arena enemy. When you place the Trading Card on your battle deck you can go directly to the Battle Arena to battle it. |
Santa Claws Specifications:

Base Health: 33
Base Magic: 33
Weapons: Gift Blaster and Grinch Stick
Base Damage: 18HP

Click Here to Go Back to Trading Cards.

---
---