Welcome to the National Maradan
RP Bank
.
Queen Eleka
makes sure that the RP bank remains open 24 hours a day, 7 days a week. You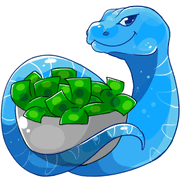 can use the RP Bank to safely deposit your RP into a savings account and earn daily interest.
Collecting Interest
Edit
Interest can be collected every 24 hours. Every time you deposit RP to your bank savings account the 24 hours is restarted. This is a safety feature installed here at the bank, to make sure interest is only given to those who use their bank to save money and not to store.
Bank Accounts
Edit
| | | |
| --- | --- | --- |
| Bank Account | RP to Upgrade | Interest (per week) |
| Newbie Account | 0RP | 0.5% |
| Maradan Saver | 10,000RP | 0.45% |
| Bronze Account | 50,000RP | 0.4% |
| Silver Account | 100,000RP | 0.35% |
| Gold Account | 250,000RP | 0.3% |
| Platinum Account | 500,000RP | 0.25% |
| Emerald Account | 1,000,000RP | 0.2% |
| Ruby Account | 2,500,000RP | 0.15% |
| Sapphire Account | 5,000,000RP | 0.1% |
| Multi-Millionaires Account | 10,000,000RP | 0.05% |