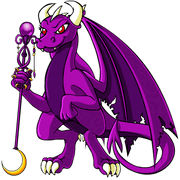 Queen Eleka
is the evil ruler of the Dark Side of
Marada
, and presides in her own 
castle
[1]
. Queen Eleka used to be part of a quest where you had to bring Light Side items to her during the
Mini Pet Island War
in 2007. The Dark Side eventually lost and she was locked up until 2012, when she eventually convinced
King Baspinar
to set her free, and she started to hand out her own loyalty prizes to prove that she had become good. On the 16th Febuary 2012, with the help of her loyal minion, the Dark Fairy, she again declared war on the Light Side of Marada and managed to win. Defeated and exhausted, Baspinar admitted defeat and retreated. Eleka was prepared to declare herself the unopposed ruler of Marada, until the
Sultan
showed up and threw a wrench in her plans. With her funds depleted, support wavering, and army thoroughly ripped apart, she was unable to fight against this new opponent, and has since slipped back into the shadows. Who knows what she's planning to do next..?
She has been locked up since she lost the Mini Pet Island war of 2007. Five years have since passed and she has convinced King Baspinar to release her. She says that she is no longer evil and to prove it she will also give out Loyalty Prizes to all citizens of Marada, just like King Baspinar does. While the King rewards your loyalty based on how long you have been playing Marapets for, Queen Eleka will count the number of unique days you have visited Marapets, starting from February 5th 2012.
Please note that multiple accounts are against the rules and we heavily log all activity you do on the site. Claiming prizes on multiple accounts is very easily caught as we can follow where these items go, who took them on each account and what other accounts they have logged into, as well as many other logs. Do not attempt to have multiple accounts because we will simply freeze every one of your accounts forever.
Queen Eleka also gives you a FREE Loyalty Raffle Ticket every day that you visit Marapets for this Weekly Raffle. Visit Marapets every day of the week and you receive 8 raffle tickets. Winners are announced every Wednesday. Here are the awards: 
| | | |
| --- | --- | --- |
| | | Two Hundred and Fifty Dukka Coin  |
Loyalty Rewards List
Edit
Queen Eleka Loyalty Prizes
Account Age
Prize
2 days
5,000MP
5 days
Poison Berries
7 days
Evil Songs
14 days
Queen Eleka Pearl
21 days
10,000MP
30 days
Queen Eleka
60 days
Queen Eleka Booster
90 days
Staff of the Dark Fairy
120 days
25,000MP
150 days
Sprite Trading Card
180 days
Staff of the Dark Fairy Stamp
210 days
Dentist Ticket
240 days
Villains of Marada Book
270 days
Possessed Shield
300 days
Evil Smoothie
330 days
Possessed Potato
1 years
Possessed Knife
390 days
Eleka Yo Yo
420 days
Poison Berry Pie
450 days
Jinx
480 days
Possessed Gumball
510 days
50,000MP
540 days
Snake Contact Lenses
570 days
Waist Cincher
600 days
Poison Queen Costume
630 days
Lunash
660 days
Skull Shirt
690 days
100,000MP
2 years
10 Strength, Defence & Speed Stats for all of your Pets
750 days
Bronze Potato Chips
780 days
Bandeau Top
810 days
200,000MP
840 days
Diet Floral Marapop
870 days
Dragon Glowing Egg
900 days
12 Strength, Defence & Speed Stats for all of your Pets
930 days
Zipper Dress
960 days
300,000MP
990 days
Phantom Stamp
1,020 days
13 Strength, Defence & Speed Stats for all of your Pets
1,050 days
Zeso Wig
3 years
400,000MP
1,110 days
Untamed Raulf Trading Card
1,140 days
500,000MP
1,170 days
Nightmare Glowing Egg
1,200 days
£1 Account Upgrade Credit
1,230 days
Eleka Potato Chips
1,260 days
14 Strength, Defence & Speed Stats for all of your Pets
1,290 days
600,000MP
1,320 days
Dark Journal
1,350 days
650,000MP
1,380 days
10 Coordination, Stamina & Balance Stats for all of your Pets
1,410 days
700,000MP
4 years
Queen Eleka Video Game
1,470 days
750,000MP
1,500 days
Queen Eleka Photo
1,530 days
800,000MP
1,560 days
12 Coordination, Stamina & Balance Stats for all of your Pets
1,590 days
850,000MP
1,620 days
Fake Eleka Costume
1,650 days
900,000MP
1,680 days
13 Coordination, Stamina & Balance Stats for all of your Pets
1,710 days
950,000MP
1,740 days
Wide Brimmed Hat
1,770 days
1,000,000MP
5 years
£2 Account Upgrade Credit
1,830 days
Queen Eleka Sugar Cube
1,860 days
1,100,000MP
Back to Eleka's Castle