Welcome to the Planet
Enpiah
hospital
, where illegal plastic surgery operations on your character are taken place. For just one Plastic Surgery Coupon you can have one of this cosmetic surgeon's new fantastic noses shown below. Just select your coupon, select the nose style you want and then we'll do the rest!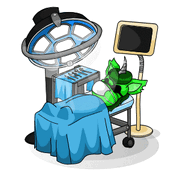 DISCLAIMER - These operations are ILLEGAL in the virtual world of Marada because they are dangerous and go wrong more times than they go right! By agreeing to the illegal plastic surgery's operations, you are at risk of your character's operation being unsuccessful, and being stuck with the wrong nose for up to 2 hours.
Ad blocker interference detected!
Wikia is a free-to-use site that makes money from advertising. We have a modified experience for viewers using ad blockers

Wikia is not accessible if you've made further modifications. Remove the custom ad blocker rule(s) and the page will load as expected.