-

Olympics
Edit
MARAPETS OLYMPICS


----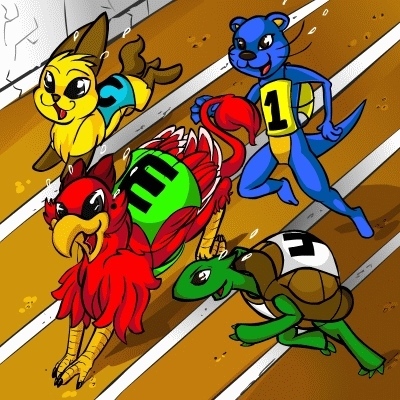 Marapets Description: The Marapets Olympics in Lush Lake is where your pets can show off their sporting skills by competing in Olympic Sports Events with other pets and players on the site. You can enter an event once every 2 hours per pet. Each event has 5 contestants, including your pet. You will receive the results of the event by an Alert once the other contestants have entered. The winning pet will receive an Award for their profile and Olympic Points to spend in the Olympic Redemption Shop. The Olympic event will change once every week.



Additional Comments: Your pet must meet all the requirements to enter, however its lowest status of the ones required is the one to set which division he/she will be entering. Odds of winning are 50% based on your pet's status and the other 50% is based on luck/randomness. The division qualifications needed, will change as they introduce other competitions.



Olympics Divisions:

UNTRAINED
BEGINNER
INTERMEDIATE
EXPERT
ULTIMATE

---
Ad blocker interference detected!
Wikia is a free-to-use site that makes money from advertising. We have a modified experience for viewers using ad blockers

Wikia is not accessible if you've made further modifications. Remove the custom ad blocker rule(s) and the page will load as expected.