-
NEWTH




Pet Name: Newth
Pet Kind or Species: Penguin
Date Introduced: ???
Description: It it unknown when the newth got released but it is one of the original site pets. Often blamed for the mishaps and subject to many humorous remarks in the news. There has been a rumor since as long as anyone can remember that newths are "mischievous criminals" and want to take over Marada. But that's just silly, isn't it?

The Newth is featured in the following activities: Account Upgrades, the Medicine Shop, the Simerian Antiques, the Newth Racing game and others...

Official Description: Newths love the water and fish. They can often be found balancing flubs on the ends of their nose and catching them in their mouths in one gulp. The Newth hidden agenda is to take over Marada.




Newths in the News
Edit
Newths have been subject of fun remarks since the site's opening!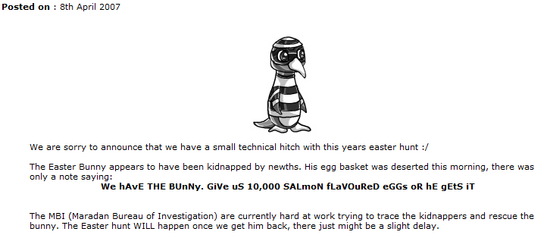 ---
---
Ad blocker interference detected!
Wikia is a free-to-use site that makes money from advertising. We have a modified experience for viewers using ad blockers

Wikia is not accessible if you've made further modifications. Remove the custom ad blocker rule(s) and the page will load as expected.