Archaeologists from all over
Marada
excavate
Simeria
to see what ancient treasures they can find. There are 30 different tombs below that have recently been found inside an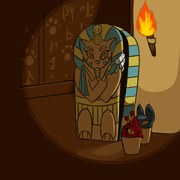 ancient temple. You can play Mummy Multiplier once every 6 hours for FREE.
Open any tomb below to see what treasure is inside. If you find MP, you will move to the next level, the MP will be added to the prize pot and the multiplier will increase. The game is over when you find a mummy in a tomb and you will win any MP in your prize pot. If you are really lucky, you may also find a random Rune inside any tomb!
Keep opening tombs until you find a Mummy
Ad blocker interference detected!
Wikia is a free-to-use site that makes money from advertising. We have a modified experience for viewers using ad blockers

Wikia is not accessible if you've made further modifications. Remove the custom ad blocker rule(s) and the page will load as expected.