Pet Name:
Lorius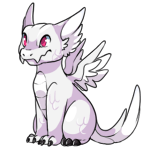 Pet Kind or Species:
Feathered air dragon
Date Introduced:
14th May 2013
Description: The Lorius is a mystical resident of the fairy city in the sky,
Nimbus
. It is a
Restricted Pet
and only available from the
Greedy Gertrude
mission in that world. Having been isolated to the city for so long, it is quite shy around new people, but is quite a bold acrobat and flier. It was originally a part of the Lorius Event, in which 6 lucky winners will randomly be selected from the Prize Draw to win one of 6 Enchanted Lorius Plushies and 1,000,000MP at the end of the event!!!
Ad blocker interference detected!
Wikia is a free-to-use site that makes money from advertising. We have a modified experience for viewers using ad blockers

Wikia is not accessible if you've made further modifications. Remove the custom ad blocker rule(s) and the page will load as expected.