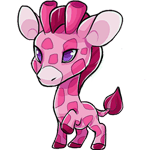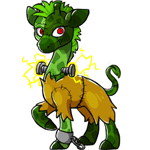 Jessup
Pet Type: Standard
Pet Species: Giraffe
Description: A common pet that resembles a giraffe. It was one of the first two Marapets that were able to wear the Burnt Costume, The other being Ideus.
Pronounced Jess-up
Official Description: Jessups are a curious pet particularly fond of vegetables. They can be found lurking in Gigantic Paradise wrestling with giant radishes.
The Jessup can currently wear 38 different Costumes.
Jessup are currently a standard species of pet, meaning that their species is healthy and their habitat is not threatened. You can create one at any time.
Ad blocker interference detected!
Wikia is a free-to-use site that makes money from advertising. We have a modified experience for viewers using ad blockers

Wikia is not accessible if you've made further modifications. Remove the custom ad blocker rule(s) and the page will load as expected.