"Hector is an obsessive collector. He moved to the Lost City of Simeria to collect rare artifacts, keys, runes, bones and now hes obsessed with collecting Stamps. Other Maradans laugh at Hector for wasting all of his time collecting stamps but he hopes to change their minds by encouraging more and more Maradans to collect Stamps for their Stamp Albums. Hector needs your help. He wants to encourage everyone in Marada to collect stamps for their own album. He has 30 different missions for you, each harder than the last. If you fail to have any of the stamps he asks for in your album, you will have to start again."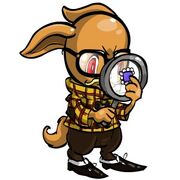 Hector is an obsessive collector of stamps. He is one of the characters who hosts a mission, and asks that in each of the 30 levels that you put the required stamp in your album and then show him. This mission is relatively difficult, as he can ask for stamps that cost well over 20 million marapoints. The plus side is that once you have collected the stamp once, if he ever asks for it again then you will have it at hand and will not need to spend more money to collect another.
There has been some dispute as to what species Hector is, however most will claim that he is a Lati. You can find Hector in Simeria.
WARNING: THIS MISSION CAN ASK FOR ANY STAMP INCLUDING RETIRED AND RARE STAMPS
No.
Prize
No.
Prize
No.
Prize
No.
Prize
1

Stamps Potato

2

250mps

3

Stamp Box

4

500mps

5

750mps

6

1,000mps

7

1,500mps

8

Shuriken

9

2,000mps

10

3,000mps

11

4,000mps

12

Stamps Gumball

13

5,000mps

14

Stamp Cake

15

6,000mps

16

7,000mps

17

Stamp Shield

18

8,000mps

19

10,000mps

20

12,500mps

21

Hector Plushie

22

25,000mps

23

30,000mps

24
25

40,000mps

26

50,000mps

27
28

75,000mps

29

Book of Stamps

30

Ike Potion

100,000mps
| | |
| --- | --- |
| | Detective avatar gained from completing Mission 24. |
| | Hector avatar gained from completing Mission 30. |