Prince Fugunzel is an ugly, long distance relative of the beautiful Princess Rapunzel. When Queen Eleka found out that he was related to Princess Rapunzel, she locked him in this tower. He is desperately trying to get out of the tower and believes that certain Charms will help him to get out.
Fugunzel has 30 different missions for you to complete.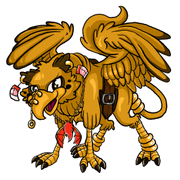 If you fail to have any of the items he asks for, you will fail and will have to start again.
I'm sorry, but you can't win his missions until you've completed the Fugunzel Treasure Map, which was available from the Lightning and Enpiah Account Upgrades of March 2008.
They can also be purchased from user shops, trades and auctions.
Ad blocker interference detected!
Wikia is a free-to-use site that makes money from advertising. We have a modified experience for viewers using ad blockers

Wikia is not accessible if you've made further modifications. Remove the custom ad blocker rule(s) and the page will load as expected.