Prince Fugunzel
is an ugly, long distance relative of the beautiful
Princess Rapunzel
. When
Queen Eleka
found out that he was related to Princess Rapunzel, she locked him in this tower. He is desperately trying to get out of the tower and believes that certain
Charms
will help him to get out.
Fugunzel has 30 different missions for you to complete. If you fail to have any of the items he asks for, you will have to start again.
Sorry, but you can't start his
missions
until you've completed the
Fugunzel Treasure Map
, which was available from the
Lightning
and
Enpiah
Account Upgrades
of March 2008. Now you can obtain all the map pieces from winning the 
Monthly Mission Contest
.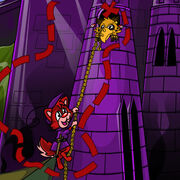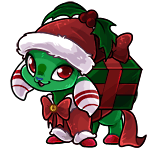 The pieces can also be purchased from user shops, trades and auctions.
No.

Cost

Prize

No.

Cost

Prize

No.

Cost

Prize

1
1 Charm

Queen Eleka Potato

2
1 Charm

100mp

3
1 Charm

Fugunzel Shirt

4
1 Charm

200mp

5
1 Charm

Fugunzel Action Figure

6
1 Charm

500mp

7
1 Charm

600mp

8
1 Charm

Winged Shield

9
1 Charm

750mp

10
1 Charm

850mp

11
1 Charm

1,000mp

12
1 Charm

Using Charms 

13
1 Charm

1,100mp

14
1 Charm

1,200mp

15
3 Charms

1,300mp

16
3 Charms

1,500mp

17
3 Charms

Charms Stamp

18
3 Charms

2,500mp

19
3 Charms

5,000mp

20

3 Charms

10,000mp

21
3 Charms

Fugunzel Plushie

22
3 Charms

25,000mp

23
3 Charms

30,000mp

24
3 Charms

Winged Sword

25
3 Charms

40,000mp

26
3 Charms

50,000mp

27
3 charms
28
3 Charms

75,000mp

29
3 Charms

Book of Charms

30
3 Charms

Troit Potion

100,000mp