The 76th species of Marapet is the Eyru!! The Eyru is a limited edition pet meaning that their species is rare and limited. You cannot create a limited edition pet but you can earn them through the game. Complete the Priscilla missions to be rewarded with a limited edition Eyru pet in Lowlyhood. The Blue, Red, Yellow and Green Eyru Potions were only available for the top 20 players who completed the most Scout Challenges and not from the mission itself.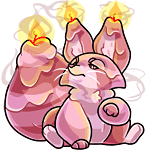 Ad blocker interference detected!
Wikia is a free-to-use site that makes money from advertising. We have a modified experience for viewers using ad blockers

Wikia is not accessible if you've made further modifications. Remove the custom ad blocker rule(s) and the page will load as expected.