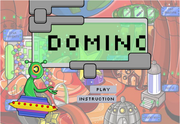 Domino
is one of the
Flash Games
on
Marapets
.
Description: "Match the numbers on the tiles to win the game but plan ahead! "
Matching three tiles will remove them. You move on to the next level when you remove all colored tiles. If you run out of tiles before you finish the level, the game will end.
Bonus Prizes: Domino Soundtrack CD, Domino Plushie, Domino Glowing Egg, Domino Gumball, Domino DVD. You may randomly win one of these prizes when you play this game. Game of the Day wins a prize each time!