"A visit to cloud nine should put you in a state of blissful happiness. Every 3 hours you can visit to win Free
MP
. There is a random amount of MP inside each of the nine clouds below. You simply select three of these
cloud
s and the MP will be added to your prize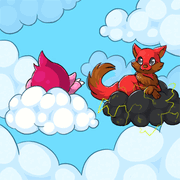 pot. Then, select one of three storm clouds for a multiplier amount that will multiply the MP you win in the prize pot. If you are really lucky, you can win up to 100x the prize pot!"
Ad blocker interference detected!
Wikia is a free-to-use site that makes money from advertising. We have a modified experience for viewers using ad blockers

Wikia is not accessible if you've made further modifications. Remove the custom ad blocker rule(s) and the page will load as expected.