For hundreds of years the Foxfire Forest lay still and dormant, hidden from the rest of Marada. The deafening noise of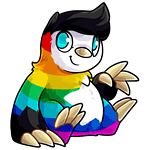 the pool party has woken Astro the newest Limited Edition pet.
Astro are limited pets meaning that their species is rare and limited. You cannot create a limited edition pet but you can earn them through the game.
Complete the 30 levels of the
Beast in the Woods
mission for an Astro pet.
Species: Sloth
Ad blocker interference detected!
Wikia is a free-to-use site that makes money from advertising. We have a modified experience for viewers using ad blockers

Wikia is not accessible if you've made further modifications. Remove the custom ad blocker rule(s) and the page will load as expected.